CHANUKAH CANDLE LIGHTING
Candles are added to the

Ch

anukiyah (Hebrew) Menorah (Yiddish) from right to left but are kindled from left to right. The newest candle is lit first. 
On the Shabbat of Chanukah, kindle the Chanukah lights first and then the Shabbat candles.
Light the Shamash - the helper candle - first using it to kindle the rest of the Chanukah lights; say or sing:
1.  Baru

ch

atah, Adonai Eloheinu, Mele

ch

haolam, asher kid'shanu b'mitzvotav v'tsivanu l'hadlik ner shel

Ch

anukah.  
Blessed are You, Adonai our God, Sovereign of all, who hallows us with mitzvot, commanding us to kindle the Chanukah lights.
2.  Baruch atah, Adonai Eloheinu, Melech haolam, she-asah nisim laavoteinu bayamim hahaeim baz'man hazeh.
Blessed are You, Adonai our God, Sovereign of all, who performed wondrous deeds for our ancestors in days of old at this season.
To be recited the first night only
:
Baru

ch

atah, Adonai Eloheinu, Mele

ch

haolam, shehe

ch

eyanu v'kiy'manu v'higianu laz'man hazeh.
Blessed are You, Adonai our God, Sovereign of all, for giving us life, for sustaining us, and for enabling us to reach this season.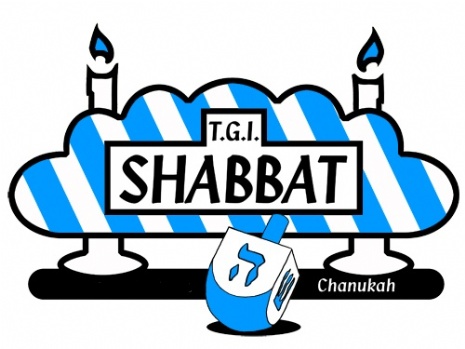 Join us at Temple Sholom for a double celebration as we usher in Shabbat & Chanukah with dinner, followed by Klezmer Kabbalat Shabbat Services. 
            Dinner at 6:00pm ~ $25/person
             Children under 10 ~ 1/2 price  
Klezmer Kabbalat Shabbat Services ~ 7:30pm 
                    (Services are open to all who wish to attend)
The Jewish Center at Temple Sholom was the oldest Conservative Congregation in North Broward and is now the newest Progressive Egalitarian Conservative Congregation offering a warm and caring environment to enrich the faith of all Jews through spiritual, religious, educational and social activities, each delivering the best of innovative and traditional ideals. Women and men are invited to participate equally in all aspects of worship and are encouraged to assist and participate in services and activities, to help create a warm, comfortable and friendly atmosphere. The Center policies are set by the Board of Directors and Committee Members who work closely with the Rabbi, Cantor and Staff.
<![CDATA[gleichzwei]]>
<![CDATA[gleichzwei]]>
<![CDATA[5FA0D69E-43F9-42E7-8EAF-AF71AF24DDCA]]>
<![CDATA[epaper]]>
<![CDATA[epaper]]>
<![CDATA[f8739f00-bb92-4b05-b941-48f6a5c461c9]]>
<![CDATA[ui11gu]]>
590
1
<![CDATA[none]]>
MEMBERSHIP:
Our congregation exists because of the generosity and dedication of our membership. Our members commitment to the cultural and spiritual advancement of all Jewish people and families is key to our survival. It is our goal to make membership available to all who wish to affiliate. We welcome you to become a member of our family.
DUES ASSISTANCE and SCHOLARSHIPS:
Financial assistance is available to ensure that membership is open to everyone, regardless of the ability to pay. You can confidentially discuss individual or family needs with our office staff who will work with you to create the best possible payment plan. A limited number of educational scholarships are available for our Hebrew School.
PHILANTHROPIC OPPORTUNITIES and DONATIONS:
A variety of philanthropic opportunities are available at Temple Sholom. Endowment funds and donations are needed to maintain and improve synagogue facilities and to enhance the scope of religious, educational, cultural and social goals of the congregation. All contributions, no matter how big or small, are greatly appreciated.
OPEN DOOR:
Temple Sholom welcomes diversity among its congregation, students and friends; services are available to anyone eager to learn and who is interested in participating in synagogue activities. Welcome to The Jewish Center at Temple Sholom.
 Welcome to our Hebrew School
We are a community Hebrew school built on connections between neighbors, classmates, and community members. Our goal is to help the students develop confident and comfortable Jewish identities. This development includes emphasizing the connection between each student and the Jewish community, its values, and the rhythm of the Jewish calendar. Central to this connection is becoming familiar and knowledgeable about topics such as Hebrew, Torah, Community/ Synagogue life, Shabbat and Holidays, and Israel.
We work to accomplish this by constructing an organic and fluid curriculum developed by drawing points of study from students' interests, experience, and questions.  A small class size is maintained to ensure that each student's voice is heard and appreciated.  We celebrate the diversity of Jewish life in Florida, and welcome all families and students with an interest in connecting to Judaism.
Open enrollment for 2014-2015 -  (954)942-6410
Temple Sholom
Offers Pre-Need And At Need Gravesites
Your Inquiries Are Invited
Please Contact Our Cemetery Committee For More Information
Bernie Arnold 954-942-6410 ext:11
Temple Sholom's Gravesites are located in the
Star of David & Mt. Hebron Sections
At Forest Lawn Memorial Gardens
200 West Compans Road, Pompano Beach, FL